Rabbi Shlomo Barya Nadiv Schachter, Ahava Atara Schachter-Zarembski, their daughter Tzedakah and sons Meshullam and Netzach are excited to be be part of the University of Illinois Urbana Champaign community! They are excited to have the opportunity to learn with students and be a meaningful part of their lives on campus!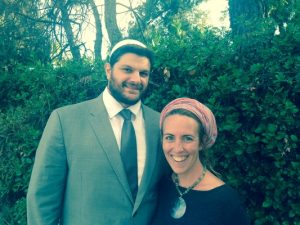 Rabbi Shlomo Barya Nadiv Schachter, the son of the late Rabbi Zalman Schachter-Shalomi Z'L, is a musmach of Rabbi Shlomo Riskin and a certified Shochet and Menakker.  Rabbi Shlomo Schachter specializes in creativity within Jewish texts, balancing Halachic rigor with Chassidic insights and philosophical examination.  Rabbi Schachter was also an American Football Coach in Israel; defensive coordinator of the three time IFL champion Judean Rebels as well as the defensive line coach of the Israeli National Team.  Rabbi Schachter particularly enjoys speaking on the subjects of Neo-Chassidut, Do It Yourself "DIY" Mitzvot, Football and the Torah, Organic Theology and the Halachic legacy of his father.  Rabbi Schachter holds a degree in Modern Religious Thought from Oberlin College where he was a three year varsity letter winner at defensive end while still keeping Shabbos. He also studiedsd and practiced alternative medicine including acupuncture and reflexology.
Ahava Atara Schachter-Zarembski. Born in Skokie, IL, Ahava received her Master's Degree from The Johns Hopkins University School of Advanced International Studies. She moved to Israel in 2001, and while studying at Nishmat The Center for Advanced Jewish Studies for Women in Jerusalem for 7 years, she worked in Israeli policy making, giving recommendations to the Prime Ministers Office.  Ahava's diplomatic specialty is humanitarian crisis relief missions, and she served in Israeli delegations to Haiti and Serbia as well as working with the US state department's relief efforts in Gaza. Ahava loves the arts, particularly fashion, and in 2013 opened her own fashion label, AhavaZ Designs.  Ahava loves teaching Torat Eretz Yisrael as well as examining pressing women's issues within today's Jewish world.